Free UPS Ground Shipping on imprinted clothing and gift orders over $99 - shipping charge is removed by store when processed - See Details
Please enter search criteria
Commencement Information - 2021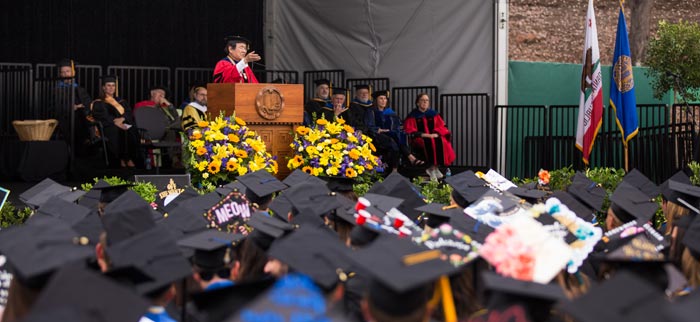 UCSB Campus Store Commencement Hours
Campus Store Hours
Campus Store is currently closed to the public. There are pick up window hours M-F 11-1pm.

On-Site Commencement Tent Hours
No events are currently scheduled for 2021.


Campus Store On-Site Commencement Tent Info
No events are currently scheduled for 2021 - (The Campus Store will have a tent conveniently located near the Commencement site with a selection of alumni gifts and clothing, sun visors, hats, sunscreen, water, and snacks).
Contact
For questions regarding course books, online textbook ordering, faculty requisitions.
For questions regarding computer hardware, back-to-school computer information, in-stock computer products.
For questions regarding online orders of Apparel,Gifts,Insignia & General Merchandise.
For general questions about merchandise and services.
Hours
Regular Store Hours:
Monday - Friday: 8:00am - 5:00pm
Saturday: 11:00am - 4:00pm
Sunday: Closed
Closed November 25th, 26th & 27th - Thanksgiving Holiday
December 18th Closed to instore shopping.
Online shopping available thru December 20th 2021
Online orders are being processed Monday-Friday and are available for shipping or pick up in-store.
Copyright © The Regents of the University of California, All Rights Reserved University Center.