Please enter search criteria
Student Employment
The UCSB Campus Store offers many job opportunities for UC Santa Barbara students. It is part of our operating philosophy to provide opportunities for students to earn money for their education while also gaining valuable work experience.
Download the application first then, open it in Adobe Acrobat Pro. Then you can type your application using Fill & Sign.
Please save a copy, Then e-mail it to Jean.
Or Print and bring it into the Campus Store.

Download an application. Send application to [email protected]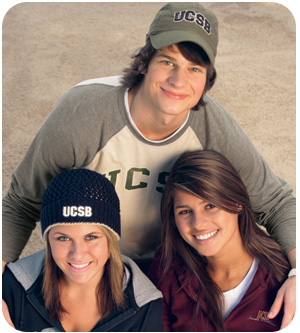 Contact
For questions regarding course books, online textbook ordering, and faculty requisitions.
For questions regarding computer hardware, back-to-school computer information, in-stock computer products.
For questions regarding online orders of Apparel, Gifts, Insignia & General Merchandise.
For general questions about merchandise and services.
Campus Store Hours
UC Santa Barbara Campus Store
Regular Store Hours:
Monday- Friday 8:00 am - 5:00 pm
Saturday: 11:00 am to 4:00 pm

Cesar Chavez Campus Store Closed
March 31st 2023 & April 1st 2023

April 2nd Campus Store OPEN 11:00 am - 4:00 pm

School Starts April 3rd. 2023
Campus Store Opens at 8:00 am - 5:00 pm

Campus Store Open Regular Hours
During Spring Break

All Gaucho Reunion
April 27th - 30th, 2023
Come Visit Us!
University Center (UCEN)
1 UCEN Road
Santa Barbara, CA 93106
Phone:
805.893.2330
Helpful Links
Copyright © The Regents of the University of California, All Rights Reserved University Center.